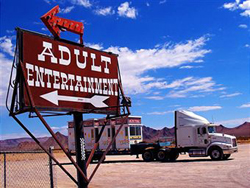 A suburban strip club owner who didn't pay taxes on $12 million in cash he stashed away was sentenced Friday to a year in prison followed by six months of home confinement after it was revealed he had provided extensive cooperation to the government.
Michael Wellek had been charged with failing to file income tax returns for a dozen years even though his clubs — Heavenly Bodies in Elk Grove Village, Skybox in Harvey and Cowboys in Markham — generated millions of dollars.
"What I did was wrong," a tearful Wellek told U.S. District Judge Joan Lefkow moments before she handed down the sentence. "I take full responsibility for my actions, and I am very, very sorry."
Wellek, 63, of Libertyville, told the judge he was so ashamed he asked his wife not to attend the sentencing. Instead, she wrote a letter on his behalf.
Wellek pleaded guilty in November to impeding an Internal Revenue Service investigation and filing a false income tax return in 2000. He faced up to four years in prison under federal sentencing guidelines, but prosecutors recommended 18 months in prison in return for his cooperation. The defense sought probation.
"It was greed, pure and simple, and he just didn't want to pay," said Assistant U.S. Atty. Patrick King.
Terry Ekl, Wellek's attorney, who declined to discuss the nature of his client's cooperation, told the judge that Wellek was pursuing the American dream by owning a business but conceded, "He was probably in over his head."
While investigating Wellek in 2003, federal agents discovered — and then seized — $12 million in cash stored in duffel bags in a warehouse located near Heavenly Bodies. As part of his plea deal, Wellek has paid $5.5 million in restitution. On Friday, the judge also fined him $75,000 and ordered an additional $363,000 in restitution. He is to report to prison in June.
---
Where We Can Meet You? - Contact An Attorney Now

Arcadia Office
150 N. Santa Anita Ave,
Suite 200
Arcadia, CA 91006
Phone: (626) 446-6442
Fax: (626)-446-6454
Beverly Hills Office
9465 Wilshire Blvd.
Suite 300
Beverly Hills, CA 90212
Phone: (310)-880-5733
La Mirada Office
Cerritos Towne Center
17777 Center Court Drive ,
Suite 600
Cerritos, California, 90703
Phone: 888-888-6542

Los Angeles Office
Gas Company Tower
555 West Fifth Street,
31st Floor
Los Angeles, California, 90013
Phone: (213)-400-4132
Long Beach Office
Landmark Square
111 West Ocean Blvd.,
Suite 400
Long beach, California, 90802

Irvine Office
Oracle Tower
17901 Von Karman Avenue,
Suite 600
Irvine, California, 92614
Phone: (949)-203-3971
Fax: (949)-203-3972
Ontario Office
Lakeshore Center
3281 E. Guasti Road,
7th Floor
City of Ontario, California, 91761
Phone:(909)-996-5644
Riverside Office
Turner Riverwalk
11801 Pierce Street,
Suite 200
Riverside, California, 92505
Phone: (909)-996-5644
San Diego
Emerald Plaza
402 West Broadway,
Suite #400
San Diego, California, 92101
Phone: (619)-885-2070
Aliso Viejo
Ladera Corporate Terrace
999 Corporate Drive,
Suite 100
Ladera Ranch, California, 92694
Phone: (714) 721-3822